The third member of fashion's New Guard to catch up with END. over Instagram DMs, Heron Preston joins his brethren as a pivotal voice on the international design stage.
A multi-hyphenate in his own right (the new cost of entry to an exclusive movement that has come to define the creative agenda for the internet generation) Heron Preston's career to date has been punctuated with high-profile collaborations with Nike, Kanye, NASA, and the DSNY, each of which has pushed the envelope, reaffirming fashion as a method of communication in the digital age.
Catching up via Instagram DMs, END. tals to Heron Preston about Milan, counterfeit culture and sending streetwear into space.
Hey Heron - how's it going?
Hey!
I'm good thanks.
How are you!?
Good
Congratulations on Business of Fashion 500

Thanks. Super awesome.
Where are you just now?
At home - just took my dog out for a walk.
What kind of dog is he?
Chihuahua/Pug/American Eskimo
We did a DNA test because we adopted him but had no idea what he was
He sounds cool

What are you working on right now?
Man, so many projects. It's a lot. I'll be going out to my office in Milan next week to start on my new collection.
Ace - anything you can show us yet?
Haha not yet! But I can't wait to show you guys.
Looking forward to it.
We're shooting Heron Preston right now with @freckledlightskin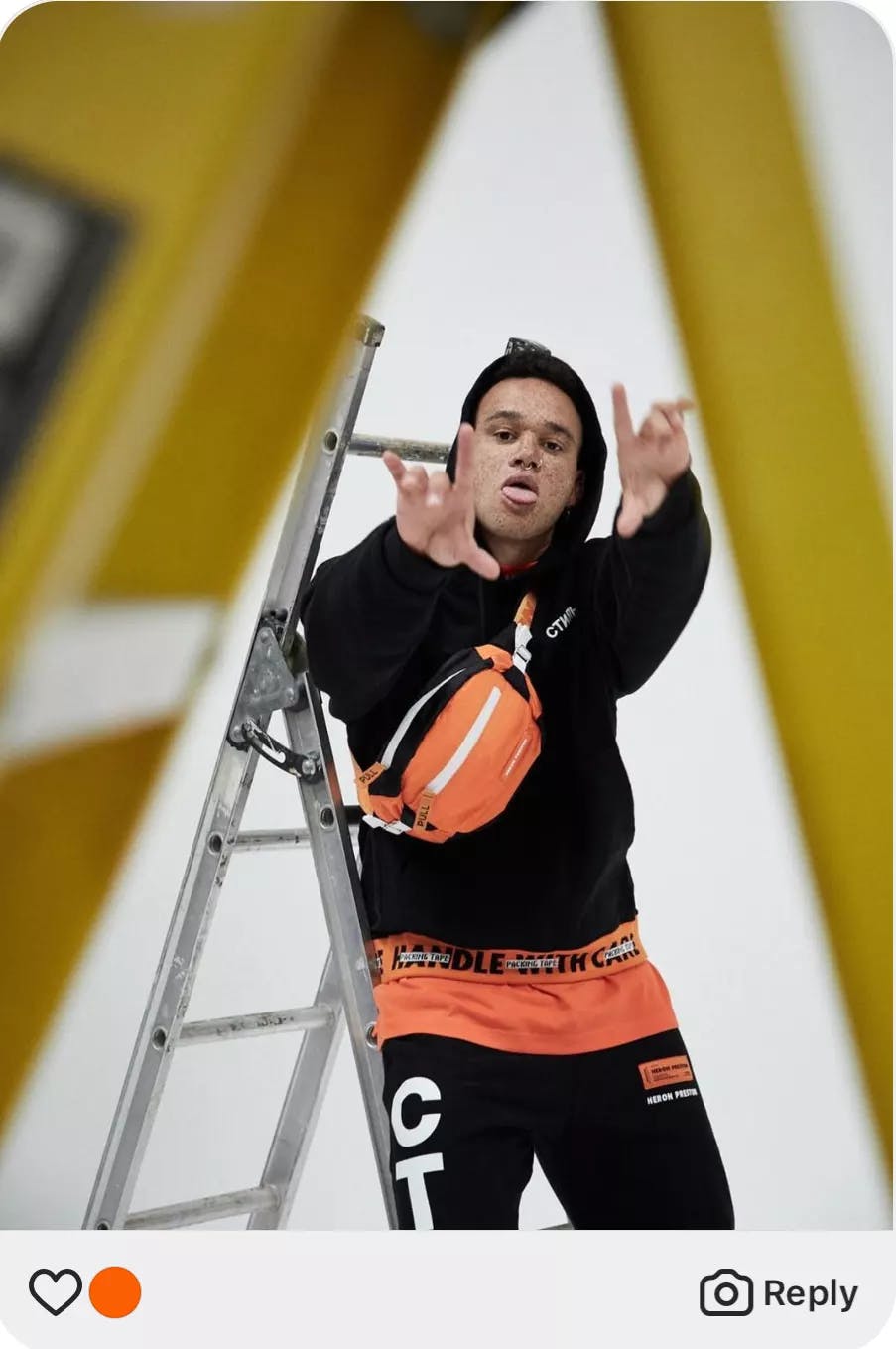 Looks dope
What does an average week look like for you?
Usually a lot of decision making and planning haha
But my favourite thing is to brainstorm new ideas and figuring out how to bring them to life
Seems like you always manage to bring the big ideas to life
Like the Inspired by NASA collection, how does it feel looking back to have worked with NASA?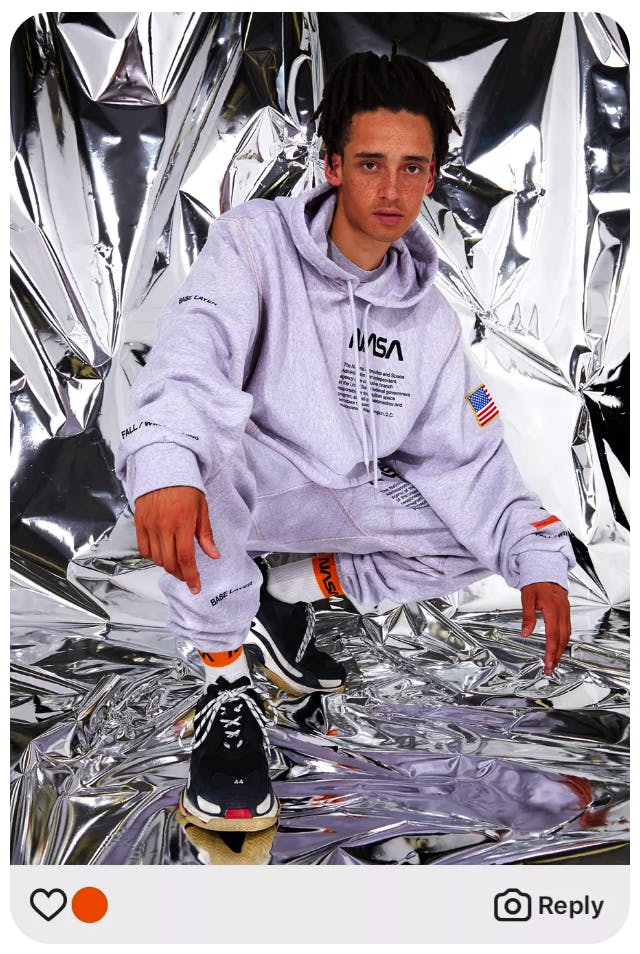 Wow. It's a dream come true. The response has been really amazing.
I got to learn so much from talking to all kinds of people in the space industry. I spoke to the designer from The Martian - the film with Matt Damon lol
This was all during the research phase. I wanted to understand space suit design.
NASA hooked me up with all kinds of people
I think the film was the most exciting part for me, when I sent the collection into space.
"Above the Clouds"
Yeah that was cool af

With David Laven, right?
Yeah - David and I went back and forth on the idea for a month
I originally wanted to shoot in zero gravity flight with the collection on a model floating around.
Those visuals would have been super cool. I was gonna get a model with long hair so you could see it standing straight up on end to show they were actually in zero gravity
That sounds ace. What made you decide to go with the drone footage and sending the jacket into space?
It was actually a weather balloon we used - that's how we got it to rise above 10,000 feet. It felt so real to me. I knew it was possible because I once saw some students from MIT send a slice of pizza into space haha.
So I figured why not shoot my collection in space?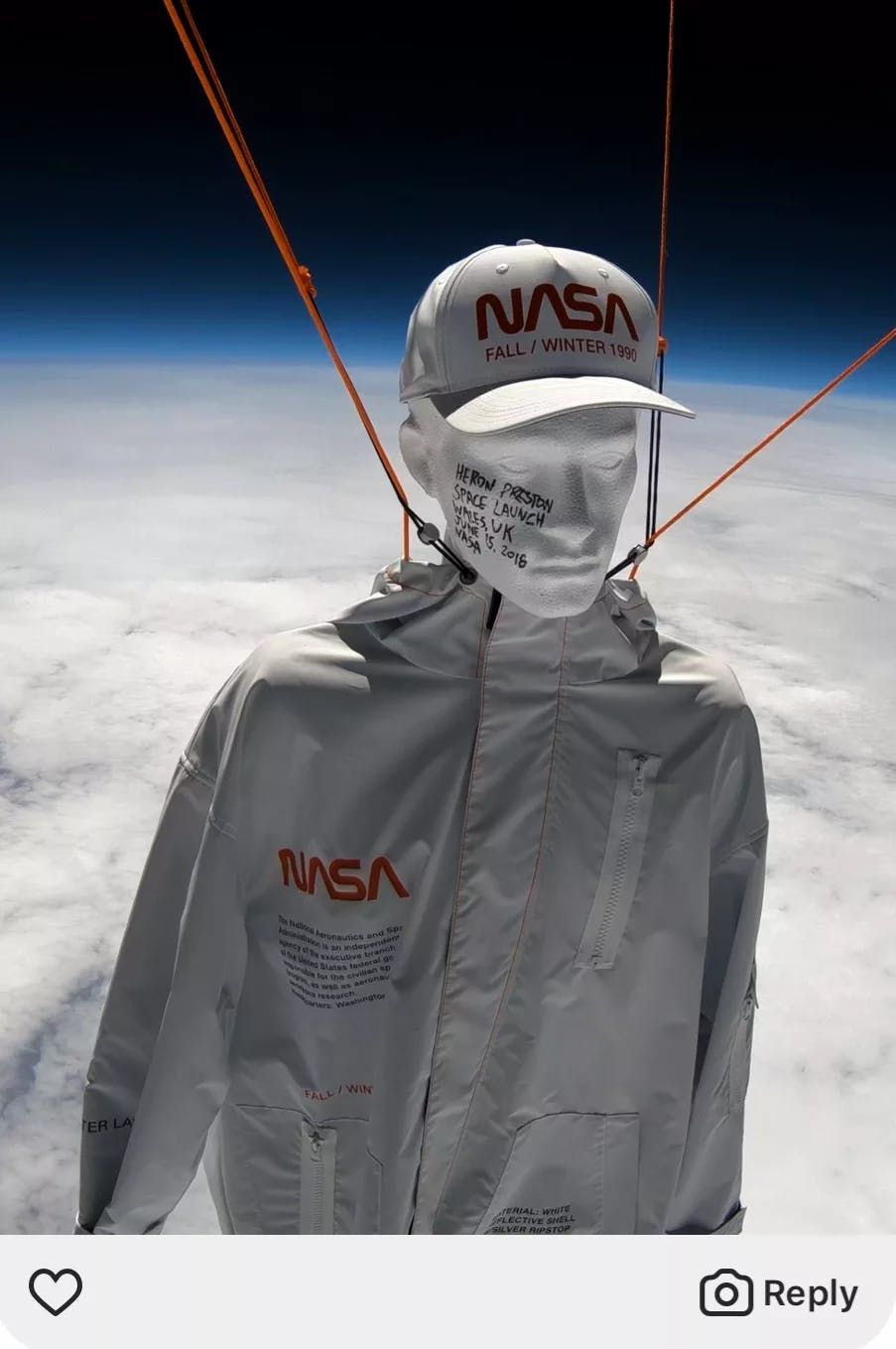 I wonder if they ate the pizza when it came back haha
Do you still have the jacket?
Yes. I'm going to frame it.
A prized possession, no doubt.
Next look...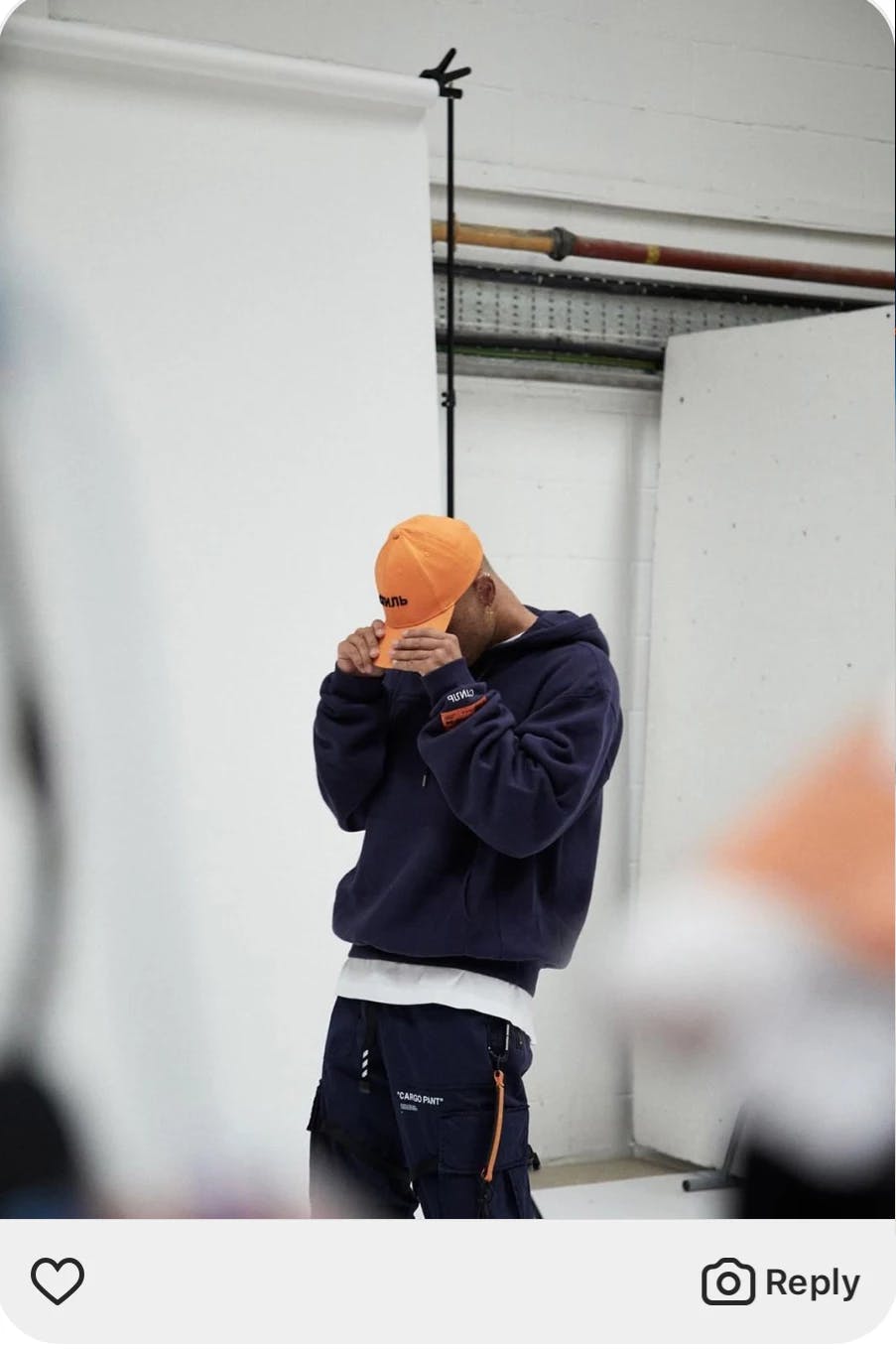 Do you have any upcoming collaborations you can tell us about?
I'm working with Nike on a collab that's dropping soon.
It's performance eyewear. For my first collab with them I wanted to introduce an accessory. I wanted to do something a little different. Everyone always does sneakers with Nike, but they make so much other cool stuff! There's never really any attention there.
I used to work at Nike, so I was exposed to a lot of stuff beyond footwear. The Nike Tailwind glasses was a product I fell in love with.
Sounds cool
You've had some pretty high profile jobs and projects in your career so far - Nike, NASA, Kanye - what advice would you give to someone looking to follow in those footsteps?
Stick to doing things that bring you happiness. Challenge yourself and be fearless. Network and build with your friends.
But the most important part is to have fun! People will notice and recognise this.
Good advice
What's it like working with Kanye?
Awesome
What sneakers are you wearing?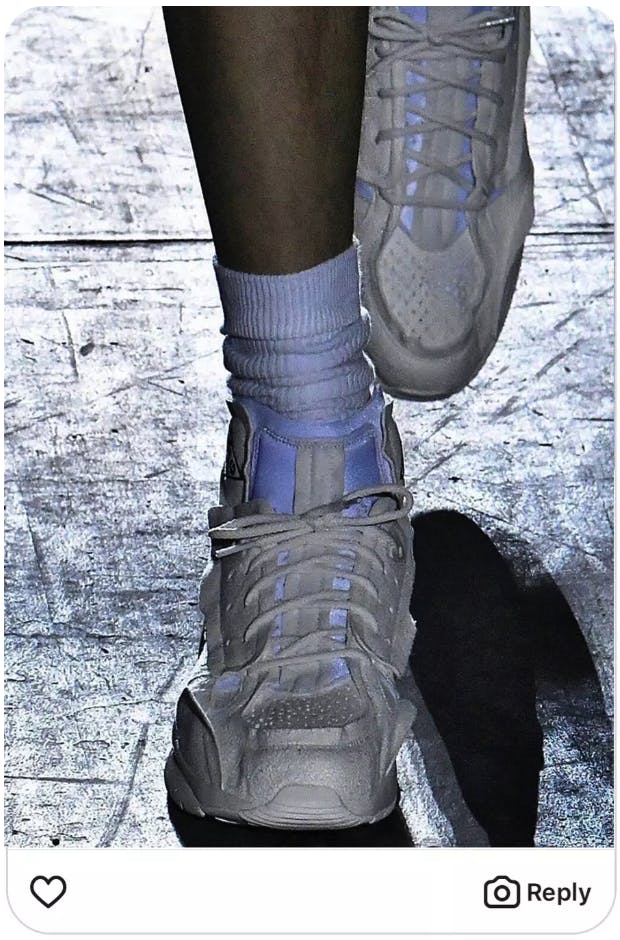 CdG x Nike Mowabbs
These but in black
Cool
Orange is the calling card of the Heron Preston aesthetic - what's the significance?
It came from the Heron. I was looking at a bunch of photos of the bird and studying its color palette. I found this really beautiful orange and decided it would become my signature colour.
What's the origin on the Cryllic sub-logo?
I was designing a t-shirt for Nick Knight SHOWstudio in London about 5 years ago. The theme was hip-hop and I decided to focus on hip-hop's obsession with style.
Rappers care so much about their style haha. It's like our DNA, how we style ourselves when we get dressed and the decisions we make. That's all style to me. It's a word with meaning worldwide and it's bigger than fashion. So I decided to write the word in Cyrillic because I really loved the style of the alphabet. The letters look cool to me.
I placed the embroidery right in the middle of the neck on a turtleneck and it kinda blew up. People loved it so much it became my logo.
We're shooting that turtleneck right now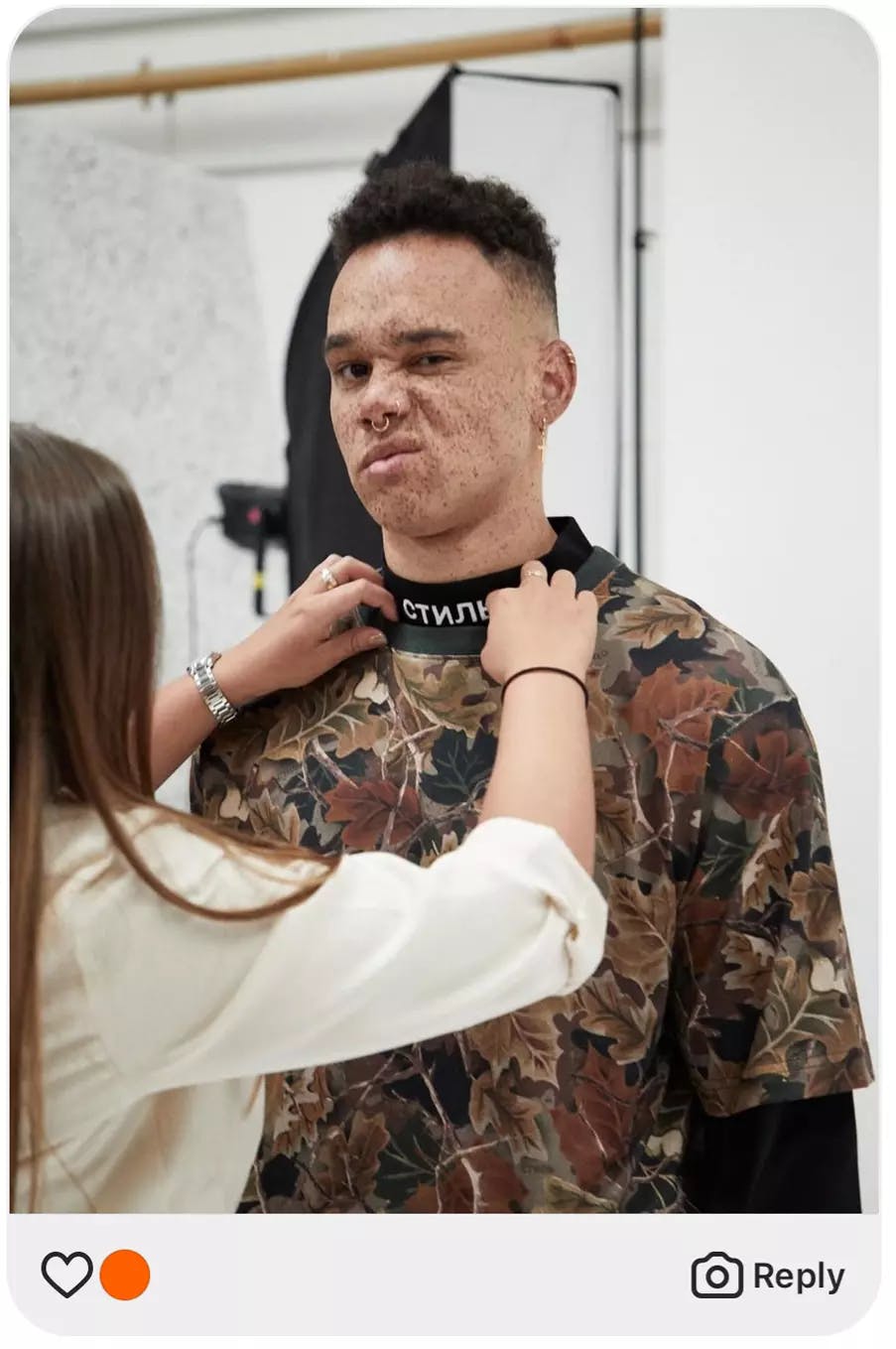 You're big into bootleg culture and the idea of giving people access to something they're not 'supposed' to have.
How do you feel now that your brands is a target for bootlegging? Do you feel like you've come full circle?
Yeah - it's so amazing, I embrace it.
I bought a ton of my bootlegs this week for China. There are some that have my name misspelled as HeroM PrestoM
So I bought those and made some N's from orange PVC and stitched them over the M's to correct the spelling mistake, and then relabelled them with my authentic label
I then resell them as a project called 'HP AUTHENTICS', basically turning bootlegs back into authentic merchandise
I'll show you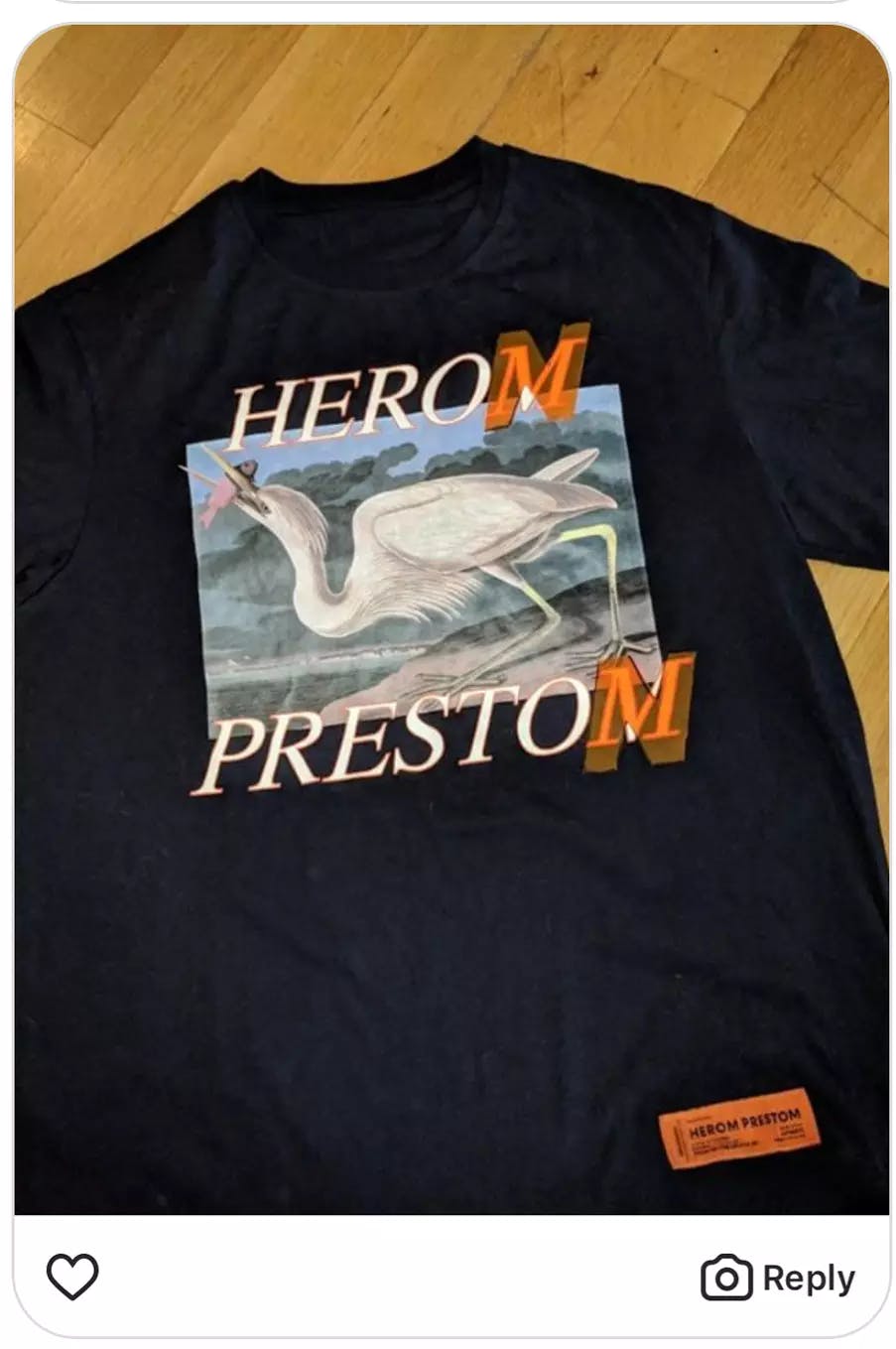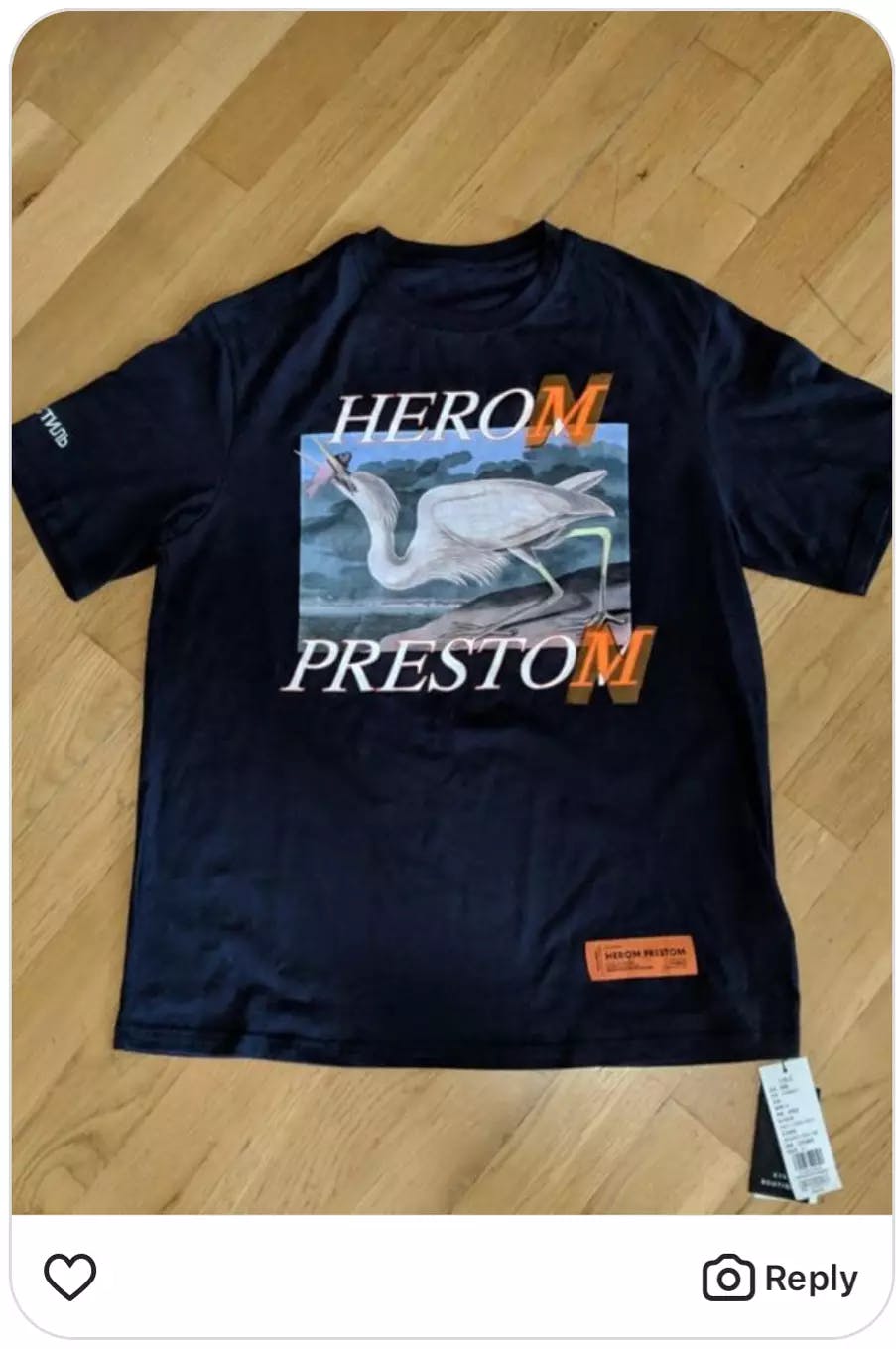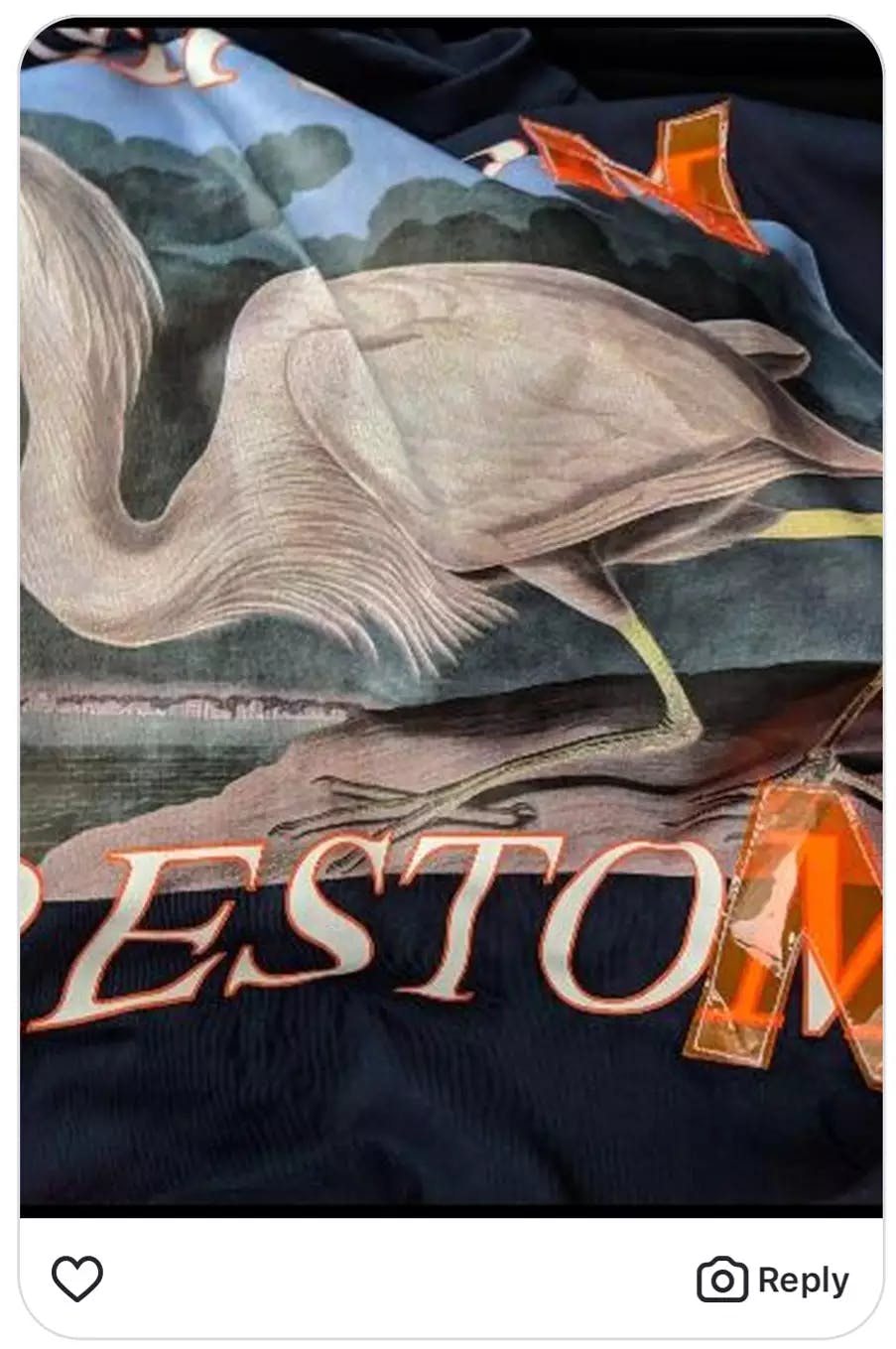 The AW18 collection was called 'Public Figure' - what do you think of influencer culture?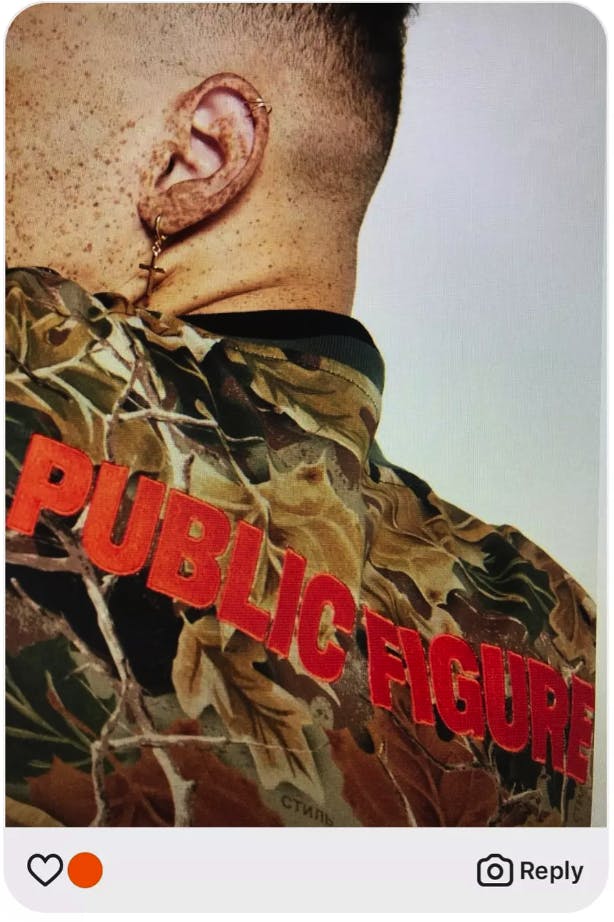 It's interesting how technology has made fame totally democratic
It's instigated a culture of fake reality where we only see these extremely curated 'best versions' of people
and brands support and fuel it
Everyone can be an influencer - I love discovering people on IG that are super talented
Do you think it has longevity or is it just a fad?
I think it's a fad
What's the last song you listened to?
and Chris Carrier 'I'm In Love Today' - on repeat this week
Good tracks
What's your most used emoji?

I use that all the time
Last photo in your photo stream?
Carti and I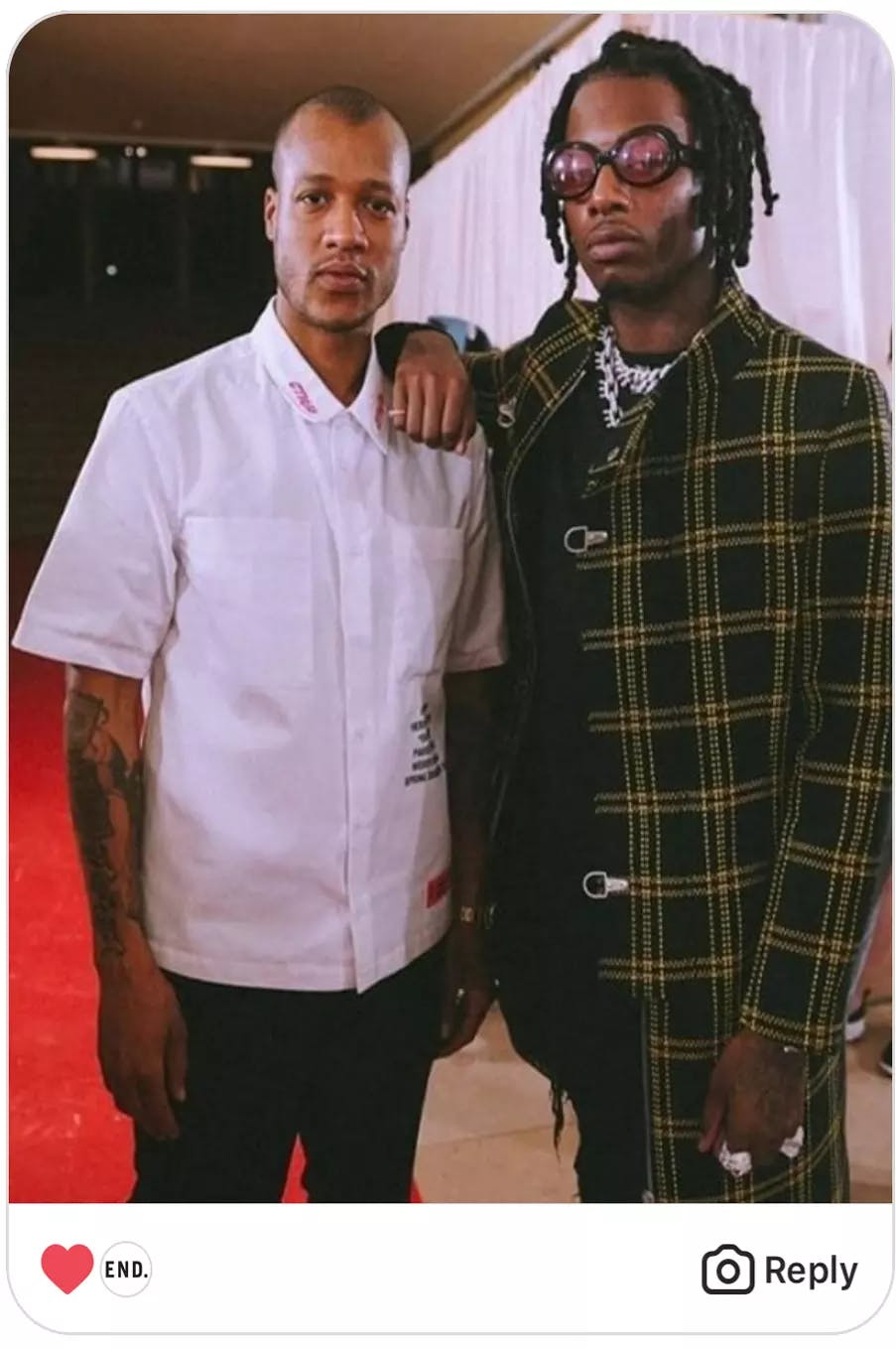 What does the world need more of?
Love
What does it need less of?
Carelessness
Last question: what's the best thing about Milan?
The lifestyle! Italians know how to live
They do! Catch up with you soon.
Much love. Thanks!